Tai Chi Classes on Darwin Waterfront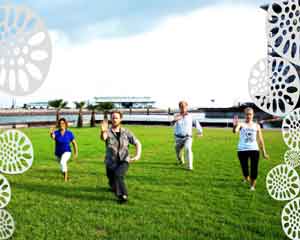 Enjoy free Tai Chi classes at the Darwin Waterfront, every Saturday morning at 7am.
Immerse in the tranquil parklands of the Darwin Waterfront with beginners Tai Chi on the lawns.
Your fully qualified instructor will show you how to focus and connect each breath with every movement whilst practicing this Chinese martial art - consisting of slow, controlled movements and postures.
Classes are free and designed to suit all ages and levels of fitness.
Bring your own waterbottle, towel and sun protection.
Tai Chi Facts
-:- Tai Chi originated in ancient China. It is effective for improving health and wellbeing and increasing vitality.
-:- Tai Chi consists of gentle, graceful movements which exercise the body and clear the mind.
-:- Scientific studies have found Tai Chi to be particularly helpful in treating stress related disorders.
❊ When ❊
Days
: Saturday
2018-04-28
Time:
7am
7 Kitchener Dr Darwin Northern Territory 0800 | Map
Telephone: 8999 5155



❊ Web Links ❊

➼ Tai Chi Classes on Darwin Waterfront

➼ www.waterfront.nt.gov.au




❊ Be Social ❊


Publisher Statement: Details can change at any time. Readers are advised to check with the advertiser (links above) before proceeding.
➼ Advertising Disclaimer


➼ Content Editor