Malak Marketplace: Organic Farmers Market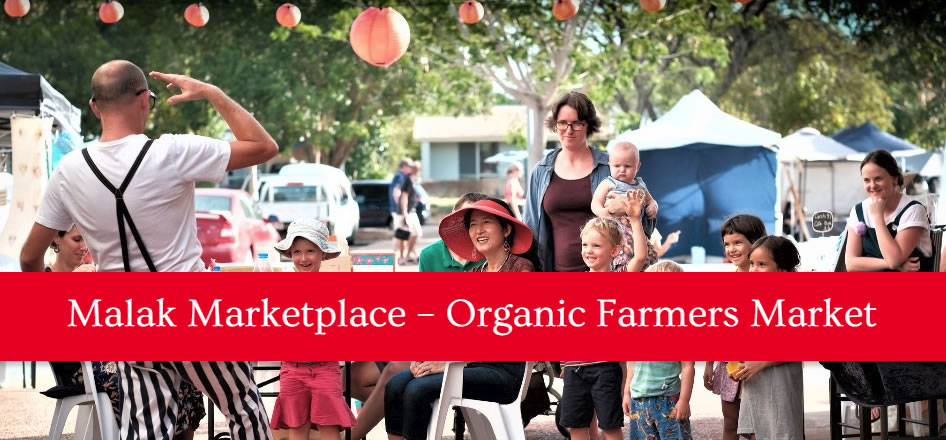 Malak Marketplace is open in Malak at Chambers Crescent Car Park every Saturday evening with approx. 70 stallholders attending.
Stay up to date with market news by following our Facebook page or read the blog
View our calendar for local events in Darwin and the rest of our Territory
Find out what makes Malak unique! Find out what 'organic' at Malak Marketplace means, what the frond rating certificates you see displayed are all about and how we celebrate being a unique and authentic eco-tourism destination.
Local Organic Farmers
Growing fresh and organic to give us the best produce
The farmers at the market sell their own produce and are kept busy most of the night. However, this friendly and passionate group of growers are always ready to talk to customers about what's in season, how best to cook their produce and what's coming up next market day!
All Things Eatable - Producer of edible plants such as aibiza, kang kong, Brazilian spinach, mushroom leaf, long leaf coriander, aloe vera, lemon grass, basil ( sweet and Thai), chilies, pumpkin tip, galangal and more.
Crab Lady - Producer of spray free tropical fruit, asian greens and local mub crabs.
Notly Farms - Producer of pesticide free heirloom vegtables, herbs and gourmet garnishes plus more at Berry Springs NT, all grown using biological / organic principles
Prayer Farm Pastured Eggs - Prayer Farm is the only producer of Pastured Eggs in the NT. Pastured Eggs are REAL free-range eggs
4pm - 9pm every Saturday
(28th April - 27th October 2018)
❊ When ❊
Days
: Saturday
2018-10-27
Time:
4pm until 9pm
Chambers Crescent Car Park Darwin Northern Territory | Map



❊ Web Links ❊

➼ Malak Marketplace: Organic Farmers Market




❊ Be Social ❊


Publisher Statement: Details can change at any time. Readers are advised to check with the advertiser (links above) before proceeding.
➼ Advertising Disclaimer


Update This Page