Franck Gohier: a thousand miles from everywhere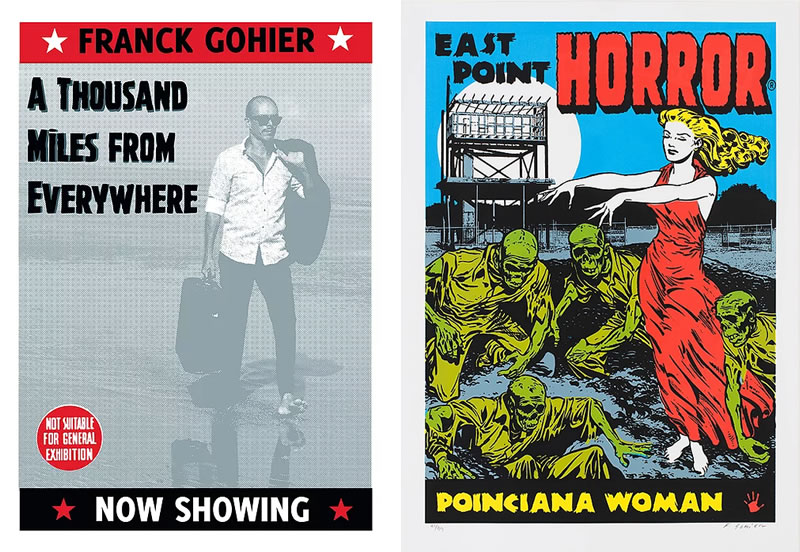 a thousand miles from everywhere
3 February - 1 July 2018
Franck Gohier: a thousand miles from everywhere is a celebration of the work of Franck Gohier and is the third in a series of MAGNT exhibitions celebrating Northern Territory artists.
It places him firmly in the Darwin, the Northern Territory and the Australian cultural landscape. The exhibition brings together for the first time works that cover some of the major themes of Gohier's work from the global influence of Pop art and capitalism through to the bombing of Darwin in World War II and the city itself as subject.
Initially fuelled by the anarchic spirit of punk, Gohier has been making art since the 1980s when he started attending art school at what is now Charles Darwin University. Over a long career, Gohier has worked in a multitude of media and roles from master printer to furniture maker to painter. For the last 15 years, he has concentrated almost solely on his own practice as well as being the sporadic principal of Red Hand Prints.
Importantly, Gohier has also made a career out of Darwin, with regular exhibitions in Sydney and public institutions in the southern states. This exhibition brings the scope of his practice to his most loyal coterie of friends, family, collectors and fellow travellers in Darwin as well as serving as an introduction for MAGNT visitors to the depth and diversity of Gohier's practice.
❊ When ❊
From
: Saturday 3rd of February 2018 To Sunday 1st of July 2018
Time:
10:00am - 5:00pm
❊ Venue | Location ❊
Museum & Art Gallery of the Northern Territory
[
view
]
19 Conacher Street, Bullocky Point Northern Territory 0820 ||
Map
Telephone: 08 8999 8264
➼ Venue: 5 Calendar events |
View Events
❊ Web Links ❊
➼
Franck Gohier: a thousand miles from everywhere
➼
www.artsandmuseums.nt.gov.au
❊ Be Social ❊
Publisher Statement
: Details can change at any time. Readers are advised to check with the advertiser (links above) before proceeding.
➼
Advertising Disclaimer
➼
Content Editor